Global food supply chain at risk due to pandemic
London (CNN Business)Farmers in the United Kingdom, Germany and Canada are using charter flights to bring in thousands of seasonal migrant workers as coronavirus shutdowns threaten the supply of labor during spring and summer harvests.
Air Charter Service, which bills itself the largest aircraft charter broker in the world, said its first flight from Romania into the United Kingdom landed Thursday, carrying 150 workers. It has another five or six flights in the pipeline, all of which have been arranged with farmers' cooperative G's Growers, said commercial jets director, Matthew Purton.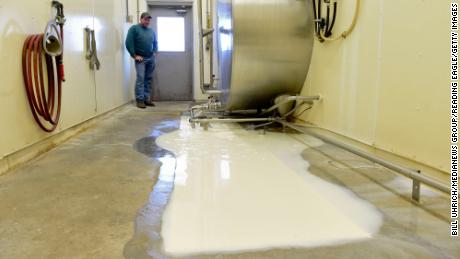 "This is a completely new line of business for us," Purton added.
The price per ticket on a charter plane is almost double the cost of seats on low-cost carriers such as Ryanair (RYAAY) and EasyJet (ESYJY), which would ordinarily transport seasonal workers, according to Purton. But with most aircraft grounded and airlines operating vastly reduced flight schedules farmers have opted to charter planes.
Air Charter Service has also flown almost 1,900 people mostly from Romania into Germany on 13 flights and expects to do more. It has moved 170 migrant farm workers from Mexico to Canada, Purton said.
Farm workers have been deemed essential workers by most countries, meaning they can continue to work even during national lockdowns that require most people to stay at home. But border closures in Europe and a virtual shutdown in global aviation has left countries that rely heavily on seasonal migrant workers facing labor shortages.
A lack of farm workers would further stretch food supply chains that have been under huge pressure from restrictions on travel and shipping, and waves of panic buying by consumers worried about the coronavirus.
Eurowings, which is owned by Lufthansa (DLAKF), said in a statement Thursday that it has flown more than 3,000 workers from Romania into Germany since April 9 as part of an "airlift for farmers" agreed between the airline and farmer associations. The company expects to complete more than 100 flights in the coming weeks as part of the initiative, which is in response to an anticipated shortfall of 100,000 harvest workers in the country.
Germany has agreed to allow a total of 80,000 migrant seasonal workers to enter the country in April and May, provided they pass a health check on arrival, according to a statement from the minister of food and agriculture.
British farms will need up to 80,000 seasonal workers this year, according to the UK's National Farmers' Union, which has been campaigning to get furloughed workers and university students to "pick for Britain."
The UK government is allowing furloughed workers relying on state support to collect wages through a second job and has also introduced a temporary licensing program for employment agencies that want to support food production, according to NFU vice president Tom Bradshaw.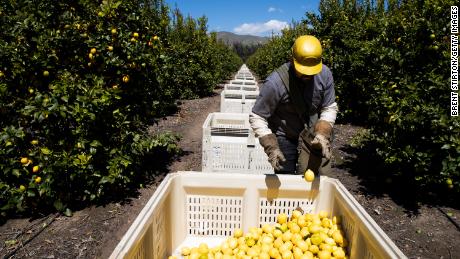 The results have so far been mixed. Concordia, a major recruiter of seasonal farm workers, said that only 5,500 of the 33,500 mostly UK citizens who expressed interest in paid positions on farms have opted to interview for a role. Half of the applicants have lost their livelihoods due to the coronavirus outbreak, Concordia said in a statement.
"Growers that rely on seasonal workers to grow, pick and pack our fresh fruit, veg and flowers are extremely concerned about the impact coronavirus restrictions may have on their ability to recruit this critical workforce this season," Bradshaw said.
But moving people around is not without risk.
Officials in Germany confirmed Thursday that a seasonal harvest worker from Romania who had been working on an asparagus farm died from coronavirus on April 11. A second person on the farm was found to be carrying the virus and people who have been in contact with the deceased are being monitored by the local health department.
— Fred Pleitgen contributed reporting.
Source: Read Full Article