Happier Days Will Mean Golfing With My Dad at This Hidden Gem
At the moment, all of our plans are on hold. But that doesn't mean we here at Bloomberg Pursuits aren't planning the experiences we'll rush out to enjoy when it's safe to do so. We're sharing our ideas with you in the hopes that they will help inspire you—and we'd love to hear what you are daydreaming about, too. Send us your ideas at [email protected], and we'll flesh some of them out for this column.
Today's daydream is fromJonathan Gilbert, an agriculture and commodities reporter in Bloomberg's Buenos Aires bureau. He's been daydreaming about when he can head back to his native England for the annual golfing trip he takes with his father.
A small apartment is no good for golf, but these days it's sadly all I'm left with. Since Argentina's government imposed a strict lockdown on March 20, I've tried everything inside four walls to slake my golf appetite.
I unfurled a rug to practice putts of six feet, but was foiled by my dogs, who took over the space. I turned to keepy-uppies with my sand wedge, but quickly got bored.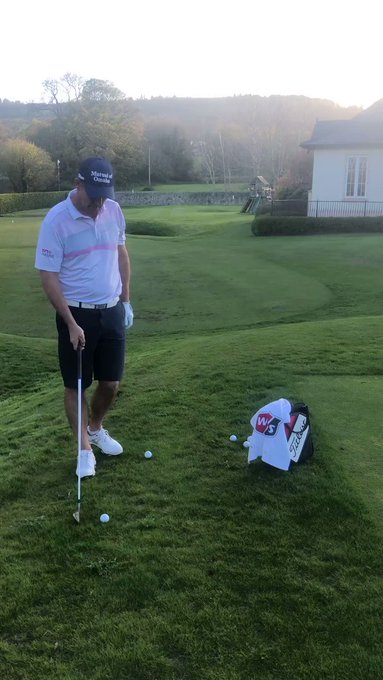 By playing this video you agree to Twitter's use of cookies
So I practiced increasing my swing speed, but it got messy: I inadvertently pruned a cactus on the balcony and in the bedroom, I took a chunk out of the wall. Tight on space, I tried a club-free drill in the mirror to improve my rotation, but overdid it. My right hip was in agony.
Tour professionals have taken to posting instructional videos on Twitter. It was Irishman Padraig Harrington who gave me the swing speed idea, but his lush garden is a more expansive setting. And even he is having to sling long shots dangerously over his house.
Caddies, meanwhile, have become comedians, with sketches about working from home—carefully raking cat litter trays instead of bunkers, or wiping off bell peppers instead of golf balls.
Buenos Aires has at least 20 great courses, but the landlocked Cordoba province, an 80-minute flight away, is Argentina's golfing crown jewel. Villa Allende, a century-old track etched into forested foothills, is the biggest pull because it has no weak holes, top conditioning, and a real pedigree: Two of Argentina's best players—one being Angel Cabrera, who has won a Masters and a U.S. Open—started out there.
But the place I'm really daydreaming of playing golf is back home, in the northwest of England. I've been reading the autobiography of Spaniard Seve Ballesteros, the 1980s great who shunned the PGA Tour and inspired Ryder Cup victories for the European continent after decades of U.S. dominance. I also watched a documentary about Phil Mickelson who, for years, honed a low-spin shot that could pierce coastal winds at links courses in the U.K. to win the coveted Open Championship.
Ballesteros's own swashbuckling triumphs on those links and Mickelson's struggles got me thinking more about West Lancashire Golf Club, which has been a qualifying venue for the Open. As one of England's oldest golf clubs, with an acclaimed course layout, it's been on my bucket list for a while.
Dreaming of Home
Golf tourists are spoiled for choice in the British Isles. Ireland and Scotland are the region's mammoths. Even if travelers do make it to northwest England, they have a pick of some of the most famous links in the world:Royal Lytham & St Annes, Royal Birkdale, which hosted the Open just three years ago, andRoyal Liverpool.
I grew up just an hour's drive from England's "golf coast" north of Liverpool, but I never actually played any of its courses. To make up for lost time, whenever I fly back, I treat my dad to a game at one. Together, we'll tackle the golden fairways and pot bunkers tucked behind sand dunes and take in views of the Irish Sea.
In 2017, we played Royal Lytham, where Ballesteros won two Opens. I was 12 when my dad took me there for the first time to watch the 2001 championship. He'd introduced me to the game a couple of years earlier with a cut-down 7-iron that had an electric-blue grip.
The next year, we traveled east to play one of the Yorkshire area's fine offering of inland tracks. (Three courses there have hosted the Ryder Cup.) A year ago, we were back by the sea at Formby Golf Club—a unique course, thanks to a beautiful run of holes among the pine trees on the dunes.
West Lancashire, however, has that allure of the hidden or understated gem. It lies a little south of the main cluster of courses, around the Victorian town of Southport.
If I'm tuned in with the driver, I can work a baby fade into most fairways. So I especially want to stripe it off the tee at the par-5 second hole, called Shore, which runs parallel to the beach. (I'll need to beware its centerline bunkers.) On a clear day, players can see across the water to the mountains of northern Wales. I'll catch a similarly stunning view at Bar, the par-4 13th, where I'd like to flush another drive.
But I'm mostly keen to try to emulate the prowess of Ballesteros or Mickelson around the greens. That's where West Lancashire's severe runoffs, much like the ones at the British-built course I play in Buenos Aires, give room for creativity. Pulling off these finesse shots—perhaps from the left of the seventh hole, where the fringe falls suddenly away—would be a memory that lasts forever. (I still reminisce about getting up and down from a nasty bunker well below the flag on Formby's fifth hole.)
After touring the coastline with his dad, Chris Soloman, founder of No Laying Up, a Florida-based golf podcast, kvelled over West Lancashire, asking why it doesn't feature higher in course rankings. "It absolutely blows my mind," Soloman recounted in an episode last year. "You don't need a recommendation for the royal courses," he said. "West Lancs is a clear No. 1 in that next tier."
When things are back to normal and golf courses worldwide reopen, I'm heading to West Lancashire as soon as I can. On the first green, I may even drain the six-footer for par—if only I could get my dogs off the rug.
Getting There
From the U.S., there are direct flights to Manchester. Grab your clubs from the luggage belt, hire a car with a big trunk at the airport, and rest for a night in this gem of a city that epitomizes the post-industrial renaissance.
If you don't have a home-cooked meal waiting like me, stay in a suite at the new Stock Exchange Hotel, housed in restored trading offices that'll give you a feel for Manchester's manufacturing-fueled grandeur at the end of the 19th century. Dine nearby at Mana, which recently won the city's first Michelin star in decades. And, depending on the time of year, get tickets to see Manchester United or Manchester City, two of the world's best soccer teams, before heading to the coast.
Make Moor Hall your base for this golf vacation. It's slightly inland but has seven luxury rooms to choose among, along with a restaurant awarded two stars by Michelin. West Lancashire and other courses around Southport, including Birkdale and Formby, are all just 10 miles away. Take a few deep breaths when you get out of your car at the links: That salty sea air will be the perfect antidote to weeks or months locked indoors.
In between rounds, head to Remedy. It's a specialist gin bar with good, cafe-style food on Lord Street, Southport's thoroughfare lined with charming iron canopies. For a real taste of home, I'd get Welsh rarebit, a variation of cheese-on-toast that packs a hearty punch. My grandma used to prepare it to perfection.
Just down the road is Liverpool, which, like Manchester, is a vibrant city that oozes northern English pride; the two have a fierce, friendly rivalry. Of course, it's the home of the Beatles, and music fans can get their fill on a two-hour tour of sites that shaped the legendary band.
A visit to the docklands is a must. Once a pillar of global trade, it's won Liverpool UNESCO World Heritage status and been remodeled with restaurants and museums. My personal favorite spot on the waterfront is the Royal Liver Building, Europe's first skyscraper, which now has a panoramic viewing platform on the 15th floor.
When I spent summer days and evenings as a kid playing golf, I often found the sport difficult and frustrating. I admired players who made it look easy. When a member joined who had one arm amputated at the shoulder, I was especially awed by his crisp ball-striking.
Consider supporting the United States Disabled Golf Association, which organizes an annual championship for golfers with disabilities. You can help by donating directly through the website. Or contact founder Jason Faircloth at [email protected] to bid for two Larry Dyke numbered prints of Augusta National Golf Club, on auction until the third week of May.
For more daydreaming about golf, check out:
Sea Island's Multi-Million Dollar Center Is the Mayo Clinic of Golf
Getting Fit For the Most Coveted Clubs in the Game
At Pinehurst Resort, the Golf Courses Are Getting Their Grooves Back
No Caddie Required: Home Owners Are Driving Demand for Golf Simulators
Source: Read Full Article