How your workplace will change forever
From properly spaced desks to visual signals, office life is expected to change beyond recognition, predicts Shyamal Majumdar.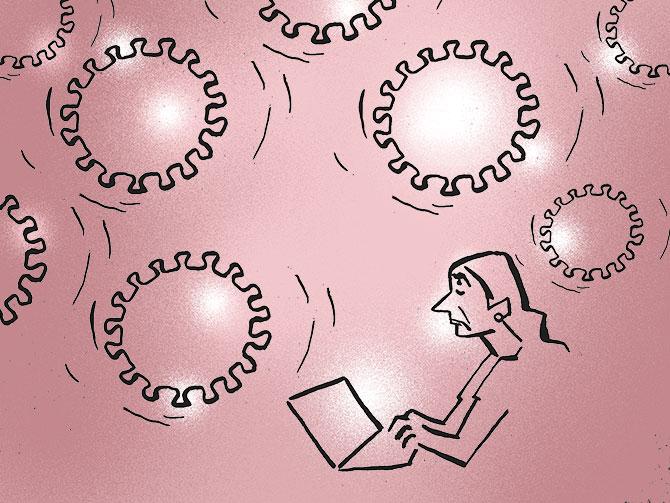 Courtesy COVID-19, offices may never be the same again.
Some corporate leaders have even started talking about the future of skyscrapers – headquarters of many large companies.
If the chatter is to be believed, high-rises would become more expensive to build and be less efficient, reducing the economic attractiveness of building super tall towers.
Barclays CEO Jes Staley is the first to articulate the concerns of the new breed of COVID-19-fearing CEOs.
Speaking at a conference call recently, Mr Staley said there will be a 'long-term adjustment about how we think about our locations. The notion of putting 7,000 people in a building may be a thing of the past.'
Instead, investment bankers and call centre workers could end up at smaller locations, such as branches.
Before COVID-19 hit, Barclays, like almost all large banks, has been busy reducing the size of its branch network.
While that may be too much into the future, the conversation that many large Indian companies are having is getting their offices ready for a post-COVID world.
And this is not about short-term fixes like adequate availability of sanitisers and stepped-up cleaning; it is more about future office design.
Commercial real estate company Cushman & Wakefield has given a glimpse of the future offices.
The firm has in the past month helped 10,000 organisations in China move nearly one million people back to work.
Using learnings gathered in China, Cushman has developed a new concept, called the 'Six Feet Office'.
In a video posted on its Web site, Cushman has shown the contours of the new office, meant to call attention to how people might safely go back to work.
This behaviour is encouraged through properly spaced desks and visual signals, such as a circle embedded in the carpeting around each desk to ensure people don't get too close.
Using arrows on the floor, people are encouraged to walk clockwise in lanes around the office.
Cushman has installed beacons into its office to track employees' movements via their mobile phones, potentially sending alerts when six-feet rules are breached.
And where filtered air is the only option, it could be boom time for high-end office climate control systems.
China's mass adoption of this technology to address poor air quality is thought to have assisted its office workers to return to their desks more quickly.
Tomorrow's offices will have little room for the key card or pin pad that employees use to access the office now.
Large offices may be tempted to have 'contactless pathways', whereby employees rarely need to touch the building with their hands.
Office doors will open automatically using motion sensors and facial recognition, while elevators can be called — and even a coffee ordered — from a smartphone.
Yet another change will be the way companies start looking at open offices, which have now become ubiquitous.
Some level of anxiety about invisible contagions will persist for a long time, which makes open offices irrelevant.
Workstation areas can no longer have the crowded café feel as proximity may no longer seem so tempting.
Over the past decade, the amount of space per office worker has steadily declined (some estimates suggest up to 70 per cent of all office spaces are open plan in design).
Desks lined up side by side has been the way for shrinking the office space for employees — all in the name of promoting team play and bonhomie among workers.
It may be time for a rollback. So open office may be frowned upon.
Finally, it's a moment of reckoning for the co-working companies.
The reason is obvious: Any place or activity that brings together a sizeable number of strangers will obviously be a top candidate for disruption.
Co-working companies like WeWork have already seen a rapid decrease in demand in countries like the US, as many clients have either dialled back or terminated their co-working memberships.
This may not signal the demise of the co-working business, but the revenue model and the office design need to change drastically.
Higher safety protocol would mean more dividers and private office.
That means increased operational cost.
Shared amenities like hotdesks, where anyone can use an open work station, might become a thing of the past.
That's bad news for co-working companies as hotdesks account for many last-minute bookings at higher rates.
COVID-19 will also impact the tenant-landlord relationship.
Companies are conserving cash and there will be a scarcity of capital and/or unwillingness by companies to invest capital into physical space.
There will certainly be uneasiness about signing long-term leases, and right to terminate will become a more popular ask.
Some of the country's largest commercial space developers have already started consulting lawyers about the new relationship.
In short, as office life is expected to change beyond recognition, a huge disruption awaits commercial real estate developers, co-working spaces and other stakeholders.
Source: Read Full Article