Two-wheel rides saddle up: Growth recovery, valuations to kick-start gains
After lagging behind other segments in the automotive (auto) space over the past few years, two-wheelers are expected to reverse their volume underperformance.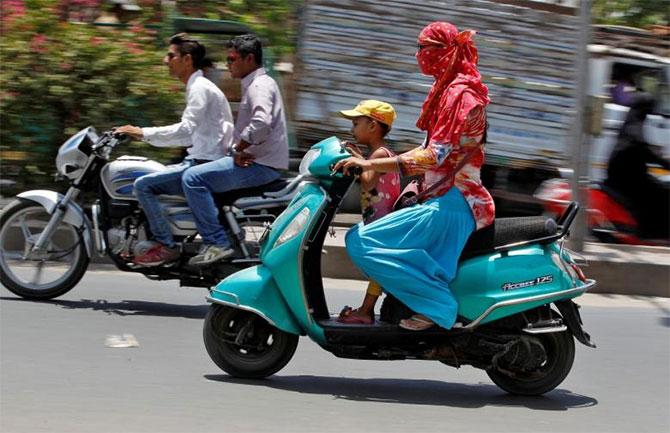 After witnessing a 36.3 per cent volume decline over the 2018-19 (FY19) through 2021-22 (FY22) periods, the sector staged a recovery in 2022-23 (FY23), with volumes rising 17 per cent.
While volumes are still a quarter lower than the FY19 peak of 21 million units, a double-digit growth trajectory is expected to prolong.
This is on the coat-tails of a lower base, a revival in rural demand, a strong replacement cycle, lower inventory, and stable ownership costs.
Equity research analysts Nitij Mangal and Sagar Sahu of Jefferies India say that the sharp fall over FY19-22 created a favourable base for the two-wheeler segment, which is the nuts and bolts of personal mobility.
They believe two-wheelers are ripe for a replacement cycle and should outpace passenger vehicles with 18 per cent annual growth over FY23 through 2024-25 (FY25).
Analysts of Emkay Research, led by Chirag Jain, are bullish on the prospects of the two-wheeler space and expect recovery to sustain 13 per cent annual volume growth over the FY23-25 period.
Robust growth is on the back of waning segment-specific headwinds (regulatory and commodity-induced sharp cost hikes), a multi-year high average fleet age, and benign channel inventory.
Some of the expectations are getting built into the two-wheeler stocks that are up between 9 per cent and 13 per cent, from their lows in March (March 28).
In comparison to their peer index, the BSE Auto is up 8 per cent, while the S&P BSE Sensex is up 5 per cent during the same period.
They expect urban-focused categories (premium motorcycles and scooters) to continue leading growth, on account of a continued shift towards premiumisation and convenience, along with product actions.
The January-March quarter (fourth quarter, or Q4) performance of FY23 and volume growth will be key near-term triggers for the listed space.
Domestic two-wheeler wholesale volumes rose about 6-8 per cent year-on-year in March, as well as in Q4FY23.
On a sequential basis, however, they posted a decline due to muted demand for motorcycles and slower recovery in the rural segment.
The Street expects volume to rise on the back of improving rural sentiment, income levels, and the start of the marriage season in the April-June quarter of 2023-24 (FY24).
Further, the threat of El Niño has weakened after a recent update from the India Meteorological Department (IMD).
This should benefit players such as Hero MotoCorp (Hero), which dominates the entry-level segment and gets a significant chunk of its revenue from rural markets.
Mitul Shah, head of research, Reliance Securities, expects the auto industry to witness steady volume improvement across segments in FY24 on the back of an expected rural economy ahead, supported by healthy agricultural output in the rabi season.
The IMD predicted "normal" rainfall during the southwest monsoon season this year, despite the possibility of El Niño conditions.
This is a buoyant development for the auto sector, specifically for rural products, he adds. Hero is the top pick of the brokerage in two-wheelers.
Given the weakness in export markets, the domestic-focused players are expected to outperform companies which get a significant share from the export market, such as Bajaj Auto and TVS Motor Company (TVS).
Both companies reported a sequential drop in volume growth in Q4FY23, while Hero reported 2.5 per cent growth.
The margin performance of the two exporters lagged behind Hero and Eicher Motors (Royal Enfield) in the quarter, with the profitability of Bajaj Auto declining the most.
In addition to a recovery in volumes, what worked in favour of investors were undemanding valuations.
Emkay Research highlights that valuations at one standard deviation below the five-year average price-to-earnings ratio for TVS, Eicher Motors, and Hero, amid a sustained revival in growth and well-thought-out electric vehicle plans, offer a favourable risk/reward.
The top picks of the brokerage are TVS and Eicher Motors.
TVS is the top pick of most brokerages.
Increasing share in the electric two-wheeler market and high exposure to growth categories of premium motorcycles, scooters, and exports are affirmative.
These propel the company to ride the strong recovery wave well underway in the two-wheeler industry, observes Emkay Research.
Source: Read Full Article