What Modi must do to revive the economy
'At this stage, you should distribute money and food.'
'Like you queue up to vote, let people queue up to collect this.'
'This will arrest the decline in demand which will have a multiplier effect on the demand side for the economy as a whole.'
'The government should earmark about 2% of the GDP for this.'
'And this should be the first step to revive the economy.'
The economy was following a downward path even before the COVID-19 pandemic struck India. Almost all sectors were performing badly. Even during the festive season, consumers were not confident enough to spend money.
Indian industry now looks at the post coronavirus period with nervousness and trepidation, as report after report talks of sliding GDP growth, sectoral crises, falling revenue collections.
Eminent economist Professor Sudipto Mundle, Distinguished Fellow at the National Council of Applied Economic Research, New Delhi, and a former member of the 14th Finance Commission, believes India is going to see negative growth in 2020.
"There is no doubt we will see a recession this year. We will definitely be in negative territory! It will be minus, and how much minus is difficult to say now, but definitely it will be minus," Professor Mundle, below, tells Shobha Warrier/Rediff.com in the first of a two-part interview:
What awaits India after more than a month of economic inactivity?
We are going to be in a very difficult situation for the rest of the year.
I have to quantify that though we are in lockdown where many economic activities have been shut down, some things are still going on.
For instance, the rabi crop harvest is going on in central and northern India, of course with some problems.
You must also remember that from the GDP point of view, the government is paying salaries to the entire government employees. But there is no output to the GDP.
I would say the same thing about the education services as government school teachers are receiving their salaries.
Of course, health service has increased.
So, you can say that there are some activities in the services sector which are ongoing.
Mostly what has been shut down is the manufacturing industry, but even there, some activities like the supply of power, water, etc are going on.
It is not as though there is a complete shutdown of all sectors. I would say, roughly half the economy has been completely shut down, and half is functioning with some difficulties.
That is where we are today. And after the lockdown is lifted, it will take a long time for that part which has been shut down, to start up again.
So, we will continue to be in a low functioning mode for the rest of this year.
Some agencies and the IMF predict a GDP growth of 2% for India. Will India be able to grow at 2%, or will it be even less?
I don't know on what basis they are giving this number. We will definitely be in negative territory!
The output this year will be less than the output of last year.
It will be minus, and how much minus is difficult to say now, but definitely it will be minus.
What should be the first priority for the government to kickstart the economy?
Before kickstarting the economy, the government has to solve the crises we are facing now.
There are two crises going on right now.
One is the health crisis due to the virus.
The second is the humanitarian crisis because of the way the lockdown was done with no preparation.
Yes, it was necessary for the health part of it. We should have prepared properly, but we didn't.
It was suddenly announced, and there was a huge humanitarian crisis of the migrant labourers and also daily wage labourers.
They were stuck, they could not go home. They have no job, no income, no food.
It is a terrible disaster. We hear stories of people walking hundreds of kilometres to reach home.
So, solving this crisis is the first thing we need to do.
What we need is a very large-scale distribution of food and also basic income.
Food and income support should be available for whoever lands up to collect food.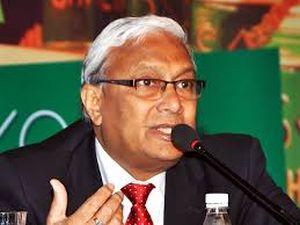 You mean, they should restart MNREGA?
You can do MNREGA, but it is not there in the cities.
At this stage, you should distribute money and food.
Like you queue up to vote, let people queue up to collect this. You can mark their fingers with ink that he has already collected the money.
The middle class and the rich who do not need it, won't line up for that.
This itself will arrest the decline in demand which will have a multiplier effect on the demand side for the economy as a whole.
The government should earmark about 2% of the GDP for this.
And this should be the first step to revive the economy.
On top of this, the government should substantially increase its expenditure.
Anyway, the health expenditure is going up. It should be ramped up at least to about 2% of GDP.
The government should use another 1% of the GDP on reviving the infrastructure sector.
I would say a fiscal stimulus of about 5% to 6% of GDP is what is needed, maybe not to stop the recession, at least to reduce its impact.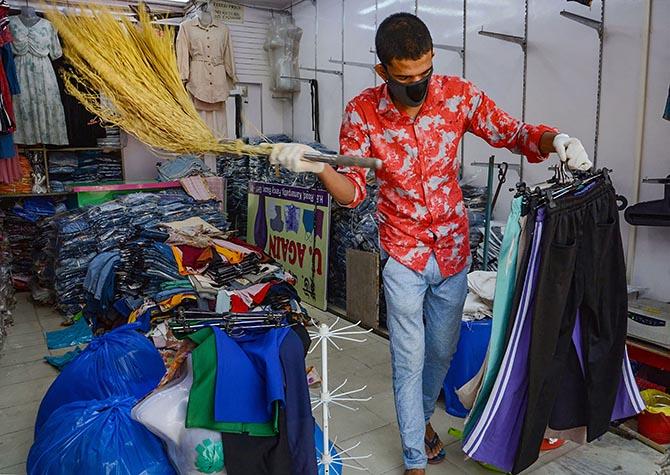 Which sector should the government be concentrating on, at the beginning?
The entire services sector which is a large part of the economy is already functioning; like all the government services, education, financial services, telecommunication and health.
Agriculture also is functioning.
Sectors which are totally shut down are manufacturing, transport and construction activities. Domestic trade also has been affected severely.
We are in a very difficult mode in these four areas.
Because the transport sector was not functioning, farmers were not able to market their agricultural produce and they were going waste…
We do not have the real numbers, but I think about 30% of fruits and vegetables were getting wasted.
Even during normal times, a lot of it was getting wasted because of poor transport facilities and absence of cold storages. Of course, it is much worse this year.
Though grains are not affected, storage has become a problem for them.
Now that they have released 77 tonnes for food distribution, that will create room for storing the fresh harvest that is coming in.
Fish, which again needs a cold chain, has stopped in urban areas. For example, fish supply to Delhi where I live, is gone.
It is a very delicate balance of how much you do to restore economic activities without risking the spread of the disease.
You revive all those areas that you can work without causing the spread of the disease.
There is no doubt we will see a recession this year. That's part of the reality.
Source: Read Full Article