When will Mumbai's restaurants re-open?
The plan is to start with 20-25 per cent capacity by early next month as part of Unlock 5.0, before moving to 50 and then 100 per cent.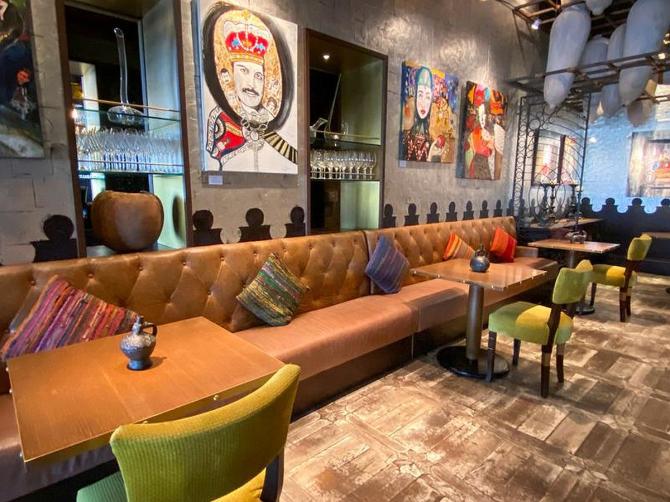 Restaurant owners, hopeful of beginning dine-in services next month in Maharashtra, specifically Mumbai, say phase-wise reopening will only work if the government permits 50 per cent capacity at eateries.
As Covid-19 cases continue to mount in the state, the Maharashtra government plans to usher in guests gradually into restaurants.
The plan is to start with 20-25 per cent capacity by early next month as part of Unlock 5.0, before moving to 50 and then 100 per cent.
But restaurant owners and associations say the government should speed up the process, given that Maharashtra is the only state that has not permitted eateries and bars to reopen.
"To do business, we need 50 per cent capacity. And, alcohol should be allowed to be served at the table if someone is ordering food.
"All states have permitted dine-in as well as alcohol service.
"Social distancing norms are being followed in these places.
"These standards will be maintained in Mumbai as well," says Riyaaz Amlani, CEO, Impresario Entertainment and Hospitality, and a member of the National Restaurant Association of India (NRAI), which has made representations to the Maharashtra government.
Vishwanath Shetty, president, Maharashtra Federation of Hotels and Restaurants, adds that small and mid-sized eateries will not be able to survive if only 20-25 per cent capacity is permitted.
"Dine-in services have not been allowed for the last six months.
"If restaurants have to reopen, it has to start with 50 per cent capacity at least."
Recently, the Maharashtra government permitted hotels to reopen with full capacity, allowing restaurants within these properties to operate only for in-house guests.
The Hotel and Restaurant Association of Western India (HRAWI) said it was important to permit all eateries and bars to reopen in the state, since their survival rate had fallen sharply.
A recent report by the NRAI found that a third of the eateries and bars had shut permanently between April and August in the country.
"Restaurants are the backbone of the food services industry, and kick-starting operations with dine-in services is the need of the hour.
"Permitting sale of alcohol at restaurants, like it has been allowed in Delhi, Haryana and Goa, should also be considered," says Gurbaxish Singh Kohli, president, HRAWI.
Mumbai is a key consumption centre, along with Delhi, constituting nearly 25 per cent of the food services market, according to industry experts.
Metros such as Bengaluru, Hyderabad, Kolkata and Ahmedabad make up another 20 per cent.
The NRAI has already submitted detailed SOPs to the Maharashtra government.
These speak of strict hygiene norms in the kitchen and dine-in areas, alternate tables being kept vacant for social distancing, and sanitisation of tables, cutlery and all items within a restaurant, apart from temperature checks of staff and patrons.
NRAI president Anurag Katriar says, "Understandably, the Maharashtra government has been cautious with the restaurant sector in response to the Covid situation in the state.
"But when most other businesses have been permitted to operate with strict guidelines, it is high time restaurants were also considered for re-opening."
In India, 60 per cent of the restaurant market is unorganised.
Many in this segment have shut shop since the pandemic broke out.
And now organised players, too, are shutting their unprofitable outlets.
Last week, Jubilant FoodWorks, which operates Domino's stores in the country, said it was shutting over 100 dine-in restaurants.
More organised players are expected to follow suit as restaurant owners strive to keep profitable stores going.
Some experts argue that delivery sales are compensating for the loss of dine-in business to some extent at large outlets.
But Katriar says small and medium food service operators are not geared for this.
Even large outlets, he says, are feeling the pressure, since dine-in remains a significant part of the traditional restaurant business.
Industry estimates peg the share of dine-in sales at about 65-70 per cent and delivery sales at about 30-35 per cent of total sales for a restaurant.
"The point about delivery works well for the quick-service restaurants, but even they are keeping a close watch on their overheads," Katriar adds.
"All players are reorienting themselves to make dine-in safe because getting back these consumers will be critical to the business."
Photograph: Abdel Hadi Ramahi/Reuters
Source: Read Full Article