Trump says US beginning to 'open for business' after coronavirus shutdowns
Trump: America is going to have an economic resurgence
President Trump discusses medical supply capacity in states, the second batch of Paycheck Protection Program loan funding that is expected to pass Congress soon and oil prices.
Get all the latest news on coronavirus and more delivered daily to your inbox. Sign up here.
Continue Reading Below
President Trump claimed in a Wednesday morning tweet that some U.S. states are beginning to "safely" reopen their economies after implementing strict stay-at-home measures to mitigate the spread of the novel coronavirus.
"States are safely coming back. Our Country is starting to OPEN FOR BUSINESS again," Trump tweeted. "Special care is, and always will be, given to our beloved seniors (except me!). Their lives will be better than ever…WE LOVE YOU ALL!"
US ECONOMIC OUTPUT PLUNGES BY 29% AS VIRUS FORCES WIDESPREAD SHUTDOWNS
Restaurants, bars, hotels, gyms, beauty salons, entertainment venues and other businesses deemed nonessential have been ordered to close throughout the country, with more than 40 states enacting stay-at-home policies in March, bringing American life to a grinding halt.
The result has been an economic free fall that experts caution could rival the Great Depression. In the four-week period through April 11, 22 million Americans filed for unemployment benefits, a stunning sign of the depth of the pain inflicted by the virus outbreak. Economists are increasingly warning of a severe contraction in the second quarter, with some estimates ranging as high as 38 percent.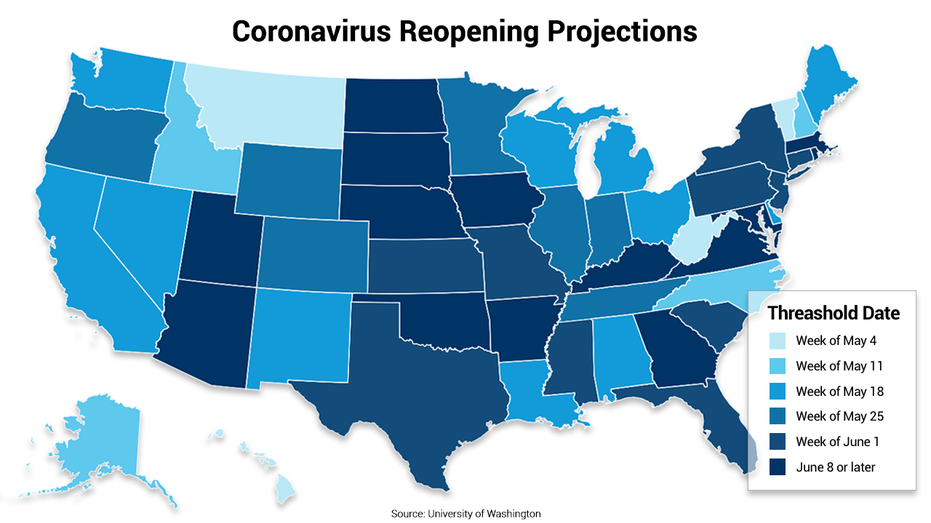 But with some signs the virus has started to plateau in New York, the American epicenter, and a lower-than-projected death toll, Trump last week unveiled a guide on how states could proceed with reopening their economies, ultimately leaving it up to governors to make the decisions on timing and breadth.

Several key measures that Trump said should be met include a downward trajectory in confirmed cases of COVID-19, the respiratory illness caused by the virus, over a 14-day period. Public health officials have warned that reopening too early could trigger a resurgence in cases and deaths from the virus.

"Unless we get the virus under control, the real recovery economically is not gonna happen," Dr. Anthony Fauci, the nation's top infectious disease expert, said during an interview on ABC's "Good Morning America" this week. "So what you do if you jump the gun and go into a situation where you have a big spike, you're gonna set yourself back."

US NOW HAS 22 MILLION UNEMPLOYED WORKERS, BUT MILLIONS MORE MAY BE IMPACTED BY THE LOSSES

Several Southern states made moves this week to reopen business, though it's unclear they meet the nececssary criteria: In Georgia, gyms, bowling alleys, hair salons and other nonessential businesses were preparing to open as soon as Friday.

Some businesses in South Carolina were already open, and affected businesses in most Tennessee counties will be allowed to begin reopening on May 1.

As of Tuesday afternoon, Tennessee had 7,394 cases and 157 deaths, Georgia had 20,166 cases and 818 deaths, and South Carolina had 4,608 cases and 135 deaths as of Tuesday afternoon.

New York, California, Pennsylvania and Massachusetts already extended stay-at-home orders this month. Many are also working to expand testing capabilities. Governors in Florida, Alabama and Mississippi are working with task forces to advise their next steps.

Reported cases in the U.S., the world's hardest-hit country, topped 825,000 Wednesday, with 45,075 deaths caused by the disease, according to data compiled by Johns Hopkins University.

GET FOX BUSINESS ON THE GO BY CLICKING HERE

Source: Read Full Article