US economic growth falls short of expectations as consumer spending slows
Inflation will 'undermine' US economy, growth over time: Hoenig
Former Kansas City Federal Reserve President and CEO and former FDIC Vice Chairman Thomas Hoenig on supply problems and inflation and how the Fed is approaching these issues. 
U.S. economic growth decelerated in the third quarter as consumer spending slowed amid a resurgence in new COVID-19 cases and as government assistance payments decreased.
Gross domestic product – the broadest measure of economic performance – grew at a 2% annual rate during the three months through September, the weakest of the recovery, according to an advance estimate released Thursday by the Commerce Department. Analysts surveyed by Refinitiv were expecting 2.7% growth. Second-quarter GDP was 6.7%.
"The Delta wave of infections, the waning fiscal stimulus and shortages, particularly of motor vehicles, triggered a marked slowdown in consumption growth," said Paul Ashworth, chief U.S. economist at research firm Capital Economics. 
BIDEN TO ANNOUNCE RECONCILIATION FRAMEWORK DEAL, SOURCES SAY, BUT DETAILS UNCLEAR
Personal consumption grew at a 1.6% pace after accelerating 12% during the second quarter. Businesses have since the reopening of the global economy struggled to keep store shelves stocked due to supply-chain bottlenecks and labor deficiencies. The supply shortages have resulted in higher prices for the consumer. 
Core personal consumption expenditures, the Federal Reserve's preferred inflation measure, increased 4.5% in the third quarter. While that was below the 6.1% increase in the second quarter, it remained well above the Fed's 2% long-term target.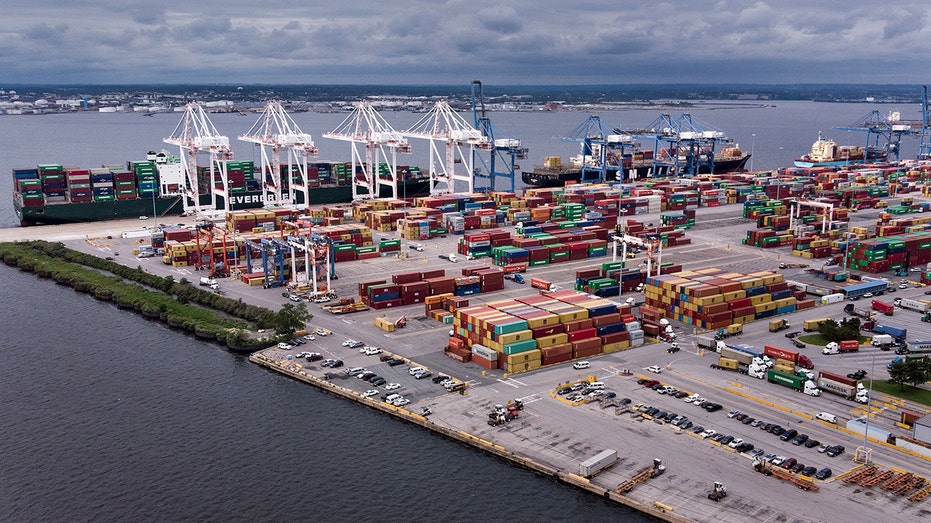 Ships, cargo containers, and tractor trailers are seen at the Seagirt Marine Terminal in the Port of Baltimore on September 21, 2018, in Baltimore, Maryland. (Brendan Smialowski/AFP via Getty Images / Getty Images)

Increases in private inventory investment, personal consumption expenditures, state and local government spending, and nonresidential fixed investment were partly offset by a drop in residential fixed investment, federal government spending, and exports.

Weaker motor vehicle expenditures subtracted 2.39 percentage points from GDP during the quarter. 

Record imports of foreign goods resulted in net exports deducting 1.14 percentage points from growth.

GET FOX BUSINESS ON THE GO BY CLICKING HERE

A separate report released Thursday showed jobless claims fell to a pandemic-era low last week. 

Initial claims declined by 9,000 to 281,000 while continuing claims, or the number of Americans who are consecutively receiving unemployment benefits, fell by 237,000 to 2.243 million in the week ended Oct. 16.

Source: Read Full Article