A web page explains GM's Shop. Click. Drive. program.
(CNN Business)FIat Chrysler was offering a great deal on new Jeeps and Karen Murphy of Elgin, Illinois, thought it was finally her chance to buy her first brand-new car. But the timing wasn't great. Due to the coronavirus pandemic, new car showrooms were closed. So she decided to do something else she had never done before and shop for a car online.
Murphy discovered a web site for a dealership 65 miles away in Matteson, Illinois, that had the car she wanted. She finalized the deal over the phone and through emails and, later the same day, the SUV was delivered to her home, she said.
"She's in the garage. I named her Betty after my mom," she said of her new burgundy colored crossover SUV. "And I sit there at night and I think, 'Oh, you're so beautiful. When will I ever get to drive you?'"
South Oak Jeep Dodge Chrysler Ram, the dealership that sold Elgin her Cherokee, had sold cars remotely over the phone and via email before, but had recently switched to a fully online system so customers can select a car, get financing and arrange to trade in their old vehicle without having to visit the dealership.
"A lot of people refer to it as maybe like the Amazon effect of retailing and it is starting to affect the automobile business a lot," said Garrett Guest, vice president of South Oak.
Customers have gotten used to being able to buy what they want online and at any time — and the coronavirus lockdown is only going to accelerate this, said Jack Hollis, who is in charge of marketing for Toyota cars in North America.
"If you currently have a dealership that's been selling maybe 10% of its sales through an online system, maybe now it goes to a third," Hollis said during an Automotive News video conference Thursday.
The slow shift online
The ability to shop for a used car online has been around for a while. Companies like Carvana, which was founded in 2012, enable you to look through its used car inventory and virtually view 360-degree images of a car from every angle. You can click and buy the car you want and have it delivered to your home on the back of a truck.
When it comes to shopping for new cars, though, online sales have come more slowly. The experience still tends to involve visits to dealerships, shaking hands with salespeople and signing paperwork.
But, thanks to the pandemic, showrooms, where customers typically go to buy cars, are closed or accessed only by appointment.
That's one major reason that auto sales have fallen sharply. Fortunately, online shopping services that automakers and dealers launched before the virus struck could help keep at least some business moving.
"Right now, it's going to be tough to sell these large, big-ticket items, anyway," said Jessica Caldwell, an industry analyst with the automotive web site Edmunds. "I think online retailing makes it easier. Without it, the results would be even worse."
Major automakers, including General Motors (GM), Fiat Chrysler (FCAU), Ford (F), and Toyota (TM) all have online buying and home delivery systems.
GM's program, called "Shop. Click. Drive." has been around since 2013, but has recently experienced two to four times the usual amount of user traffic, according to the automaker. GM's Cadillac luxury division also recently introduced Cadillac Live, a web site where shoppers can watch live presentations of the brand's cars and SUVs in real time.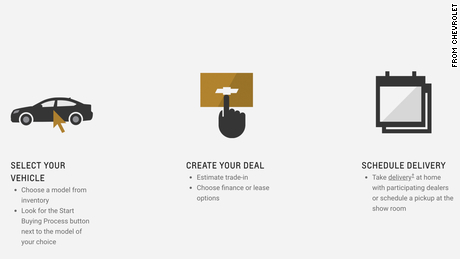 Dealers operate as independent businesses and must sign up to participate in the automaker's online ordering programs. Both Ford and Fiat Chrysler say that most of their dealers participate in the programs.
"If you're on Jeep.com or Ram.com, you can go right through the process and then get connected to the dealer in your area that has a particular match that you're looking for," said Mark Stewart, chief operating officer for Fiat Chrysler in North America.
A lifeline for dealers and automakers
Some car dealers, like New York City's Paragon Honda, started experimenting with home shopping delivery on their own. Like many dealerships, Paragon already offered home pickup and delivery of cars for service appointments. So offering home delivery of new cars was a relatively easy extension of that service.
"We were four months into a beta test before the stuff hit the fan," said Brian Benstock, general manager of Paragon Honda and Paragon Acura.
For dealerships like Paragon, online sales have become a lifeline. Sales volumes are still way down, but at least the business hasn't had to stop altogether.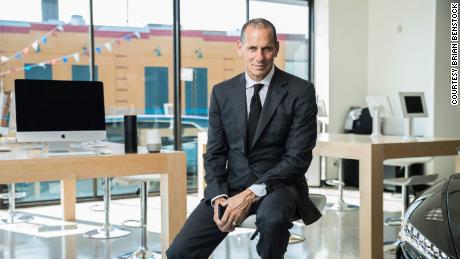 "Before it wasn't necessarily a tool to bring in business, it was just to keep the customer experience and kind of a competitive weapon. Now it's just to survive," said Vince Zappa, president of Clutch Technologies, a company that sells software to schedule vehicle deliveries.
Ricart Automotive, a small dealer group in Columbus, Ohio, started using its own online ordering system at its Ford dealership in 2017. It now uses that system to sell cars from six different brands, including Hyundai, Mazda and Nissan. Salespeople deliver the cars and trucks to people's homes or other locations, such as airport cell phone lots, said Rick Ricart, the company's president.
Ricart's showrooms are also open for customers as long as they have made an appointment.
"It's just there, literally, to consummate the end of the transaction, to toss the keys from a six-foot distance and get any final paperwork signed, basically," Ricart said.
Trade-ins can often be handled online as well, with the customer's old vehicle being picked up when the new one is delivered. On Fiat Chrysler's site, customers can report their vehicle's general condition to get an estimated trade-in value, Stewart said.
Financing can also be taken care of online, although how the paperwork is handled can vary from state-to-state and even from finance company to finance company. In some cases, documents can be signed online. In others, someone ultimately has to sign a piece of paper with a carefully disinfected pen. (Some dealers keep a supply of pens each still sealed in its factory blister pack so each customer can be the first one to touch their pen.),
Even though some states have outright bans on selling vehicles in any way due to the coronavirus pandemic, some dealers are still taking orders, said Joe St. John, head of digital retail for Autofi, a company that runs online financing platforms for car dealers. They're just keeping careful records and will deliver the vehicle once the bans are lifted.
People in the industry agree that, to some degree, this shift to how cars are sold will be permanent. Not that the in-person dealership experience will go away. But online sales will become a bigger part of the business.
Late last month, a salesperson from Van Griffith Kia in Gransbury, Texas, drove an hour each way to deliver a new Kia Soul to someone who couldn't travel because of stay-at-home orders. The deal was made over the phone.
"We're a small dealership. We don't do 300 units a month like some of them," said Brad Ferris, the finance director. "If we get to 75 or 80, we did really good."
For his dealership, an expensive online ordering system never seemed worth it, he said. But if the quarantine goes on much longer, he said, even they may have to consider it.
Source: Read Full Article