Cuomo threatens to sue Trump over coronavirus vaccine distribution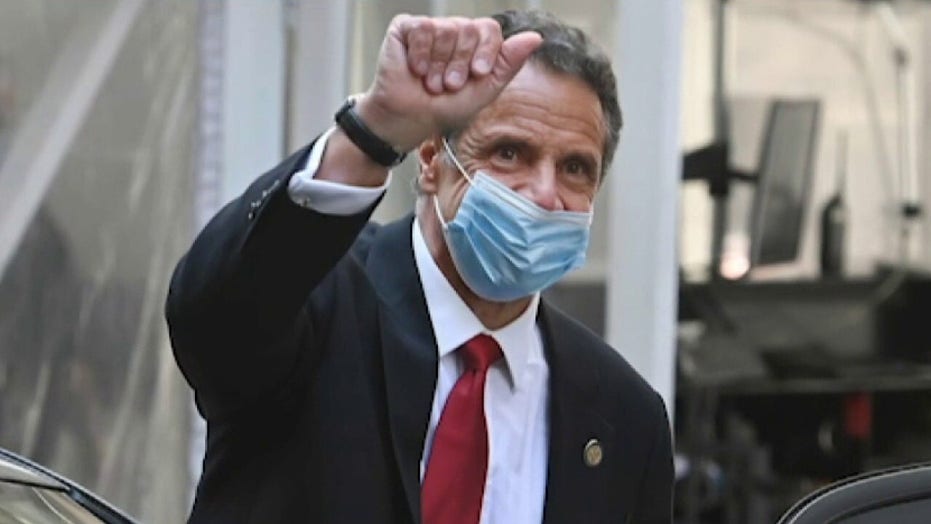 Pastor says people have right to worship God, shouldn't be restricted by Cuomo's 'arbitrary' limitations
The Supreme Court blocks Governor Cuomo's capacity rule on houses of worship; Father Gerald Murray of Holy Family Church weighs in.
New York Gov. Andrew Cuomo on Friday threatened to sue President Trump over the distribution of the coronavirus vaccine, saying the Trump administration has not provided a "fair distribution" for poor and minority communities.
During a press conference, Cuomo said he "does not believe" the Department of Health and Human Services (HHS) under the Trump administration "has provided for a fair distribution of the vaccines to combat the novel coronavirus for poor communities, Black, Latin, native communities."
"Let's do it fairly and justly," Cuomo said, noting that New York state is "going to make sure to do it, loud and clear."
Cuomo said he won't allow the federal government to proceed with a plan that leaves such communities out.
"We won't let them proceed with a plan that leaves out certain communities," Cuomo said, noting "to leave them out is illegal and unconstitutional and a discriminator by effect not intent."
"I believe this administration knows it," he said. "Biden knows it."
Cuomo added that "if Trump doesn't make changes necessary," he will "pursue a legal course of action."
"The agenda will be to make sure that not only COVID doesn't happen again, but that we address the inequities once and for all," Cuomo said.
A White House spokesman on Friday, though, fired back, saying that: "President Trump's Operation Warp Speed has continually emphasized that distribution of a safe and effective vaccine should be targeted to protect the health and safety of vulnerable Americans disproportionately affected by the virus." 
"By leveraging innovative strategies, forging new public-private partnerships, and engaging with key stakeholders nationwide, the Administration has worked tirelessly to ensure efficient, effective, and equitable access to COVID-19 vaccines and treatments for racial and ethnic minorities, equipping communities with the tools and resources to stop the spread of the virus and save lives," White House spokesman Michael Bars told Fox News. 
Cuomo's comments come after the FDA authorized Pfizer's request for emergency use of its vaccine to combat the novel coronavirus and is expected to formally authorize the vaccine in the coming days.
Trump this week signed an executive order, which Fox News first reported Monday, to ensure Americans have access to the coronavirus vaccines before the U.S. government begins aiding nations around the world.
"We work with the world," the president said. "We're working with the world."
The president said the order would "ensure the U.S. government prioritizes the getting out of the vaccine to American citizens before sending it to other nations."
Meanwhile, the president said governors will make "the ultimate decisions" as to who receives the vaccines first, saying he "hopes they make very wise decisions."
"We urge our governors to put America's seniors first, and those who work with seniors, doctors, nurses, first responders," the president said.
Fox News' Ben Evansky contributed to this report. 
Source: Read Full Article