'Little Flu' Can't Hurt Him: Why Bolsonaro Still Shuns Lockdowns
In this article
Throughout the coronavirus crisis that's killed 35,000 people worldwide, Jair Bolsonaro has kept up face-to-face meetings and pushed everyday Brazilians to get back to work.
It's no political calculation. In his gut, the president believes the bigger threat to Brazil is the economic fallout rather than the virus itself, according to two officials with knowledge of his thinking. On Sunday, he toured Brasilia, where he chatted with large groups while visiting shops, restaurants and street markets.
"Bolsonaro is a very intuitive man and that intuition got him elected," said Sergio Olimpio Gomes, a high-level police officer turned Sao Paulo senator who's been close to Bolsonaro for years. "He's not concerned with being the outlier because that's how he's always lived."
One reason underpinning Bolsonaro's conviction: He's been sitting at the center of a Covid-19 cluster for three weeks now and still feels just fine.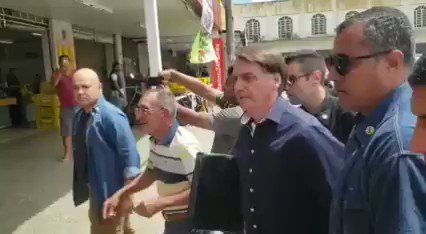 By playing this video you agree to Twitter's use of cookies
"After being stabbed, no little flu is going to take me down," said Bolsonaro, who was knifed on the campaign trail 1 1/2 years ago. On Sunday, after his Brasilia outing, he told reporters: "The virus is here. We're going to have to face it — but face it like a f–king man."
"We're all going to die one day," he added.
Cases Balloon
While the coronavirus was slow to take hold in Latin America's largest economy, cases are now ballooning andhealth experts warn the Brazilian president may have wasted precious time in preparing. Many medical professionals — and even the health minister himself — agree the public health system would be pushed to collapse if infections track the explosion in other parts of the world. Official cases in Brazil almost doubled in four days to 4,256 as of Sunday, with deaths tripling to 136.
"Arguing to get schools up and running in a nation where kids and the elderly often live side by side is a huge risk," said Vivian Avelino-Silva, an infectologist and researcher at Albert Einstein Hospital in Sao Paulo, which isranked the best hospital in Latin America. "The fact that Bolsonaro doesn't understand this, after weeks of crisis, is worrying."
Both Bolsonaro and Economy Minister Paulo Guedes think Brazil would be better off if the virus were allowed to circulate among the healthy population, according to a person with direct knowledge of the matter. Both men instead advocate targeted quarantines that isolate high-risk groups. A request for comment from Bolsonaro's press office wasn't returned.
The 70-year-old Guedes has stuck close to his Rio de Janeiro apartment in recent weeks, before returning to Brasilia to work from one of Bolsonaro's properties this week.
"If companies don't produce, they don't pay any salaries," Bolsonaro tweeted last week. "If the economy collapses, workers in the service industries also won't get paid. We need to reopen business and do everything we can to safe-guard the health of the elderly and ill."
Goldman Sachs Group Inc.warned on Friday that Latin American economies are deteriorating faster than at any time in history. Brazil may be in for a 3.4% contraction, the firm said, down from a previous forecast of 2.2% growth.
Mingling With Supporters
Bolsonaro is living what he preaches. He still holds face-to-face and group meetings, often without masks. On Sunday, he went out to chat with folks while visiting shops and restaurants. Just his presence there caused large groups to form around him. After he tweeted avideo of the outing, Twitter yanked the post for violating its rules.
All the while, Bolsonaro's inner circle is a hotbed for infections. (The president himself has said he's tested negative twice.)
First among government officials to test positive was Communications Secretary Fabio Wajngarten on March 12, two days after he returned from Florida, where he and Bolsonaro hob-knobbed with U.S. President Donald Trump at Mar-a-Lago. A day later came Bolsonaro's lawyer, a senator and the ambassador to the U.S. By the end of the next week, 19 more Brazilians who had traveled to Miami and met with the president had fallen ill.
From there, the infection spread to Congress. At least seven lawmakers are sick, including Senate President Davi Alcolumbre. Fears of infection have emptied the usually crowded Parliament building, with senators and deputies now voting remotely. So far, none have shown serious symptoms.
Fifty Minutes of Cycling
Bolsonaro said he's checked in on several sick officials, including 74-year-old Augusto Heleno. Brazil's top security official has been mostly isolated since his positive test, except for a three-hour meeting at the President's Palace on Thursday. "I asked him: 'General, what are you feeling?'," Bolsonaro recounted while streaming on social media last week. "And he says: 'Nothing. I just did 50 minutes of cycling.'"
To be fair, Bolsonaro is hardly the onlyhead of state pushing to get people back to work — and he could very well reverse his stance as other leaders have done. Mexican President Andres Manuel Lopez Obrador said over the weekend that people should shop inpublic markets to support small businesses. Donald Trump is also eager to reopen the economy, although hebacktracked on a push to open by Easter, heeding the advice of U.S. government's top doctors.
Read More: Bolsonaro, AMLO Roll the Dice With Laid-Back Virus Response
Bolsonaro has also taken steps to free up funds to fight the crisis and bolster the public heath care system. He declared the pandemic a calamity, which allows him to spend outside the federal budget, while also transferring cash to states, helping out airlines and giving vouchers to informal workers.
A High-Stakes Gamble
But by defying the advice of Health Minister Luiz Henrique Mandetta and other experts to pursue social distancing, Bolsonaro is making a high-stakes gamble that may be the defining moment in his presidency. Recentpolls show Brazilians feel the health minister is handling the crisis better than the president.
Bolsonaro is also going head-to-head with state governors who ordered shops and schools closed to slow down the pandemic that threatens to overwhelm the health system. Sao Paulo state, the epicenter of the outbreak in Brazil so far, has implemented some of the strictest measures in the country.
"President Bolsonaro doesn't identify with the political class in Brazil," said Marco Feliciano, an evangelical pastor and deputy government leader in Congress who often travels with the head of state. "From there stems conflict."
Source: Read Full Article