Twitter Users 'Fix' Donald Trump's Coronavirus Briefing Banners
The banners at President Donald Trump's abruptly-ended press briefing on the coronavirus pandemic were given a scathing reworking on social media.
The signs on display in the White House Rose Garden on Monday boasted that "America Leads The World In Testing" for COVID-19, the disease caused by the virus.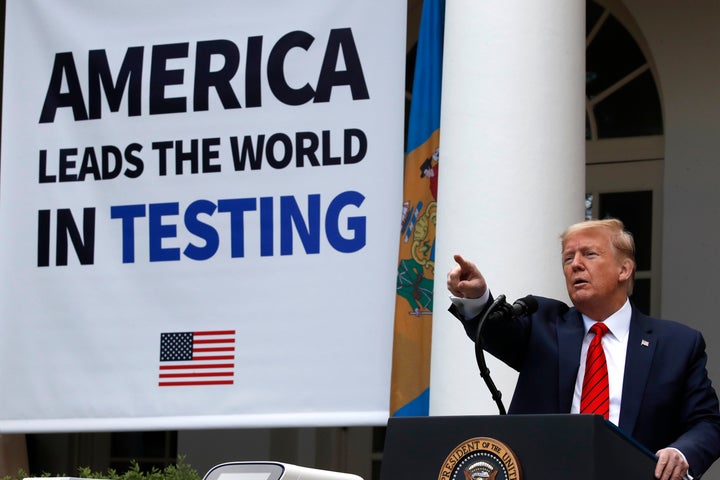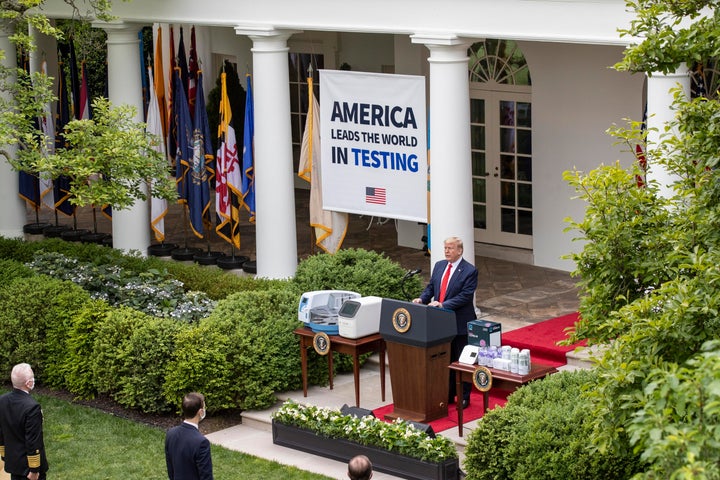 While the U.S. has conducted more tests than any other country (upwards of 9.6 million), it still languishes in around 40th place worldwide for the number of tests as a percentage of the population.
Twitter users edited ― or "fixed," as some said ― the signs to note what the United States is actually leading the world in, and that's the number of deaths from the disease. So far, it's killed more than 81,000 people nationwide.
Others noted how the U.S. leads the confirmed coronavirus case count, with upwards of 1.3 million positive diagnoses.
Stay up to date with our live blog as we cover the COVID-19 pandemic
What happens if we end social distancing too soon?
What you need to know about face masks right now
Will there be a second stimulus check?
Lost your job due to coronavirus? Here's what you need to know.
Why it takes so long to make a coronavirus vaccine
Parenting during the coronavirus crisis?
The HuffPost guide to working from home
What coronavirus questions are on your mind right now? We want to help you find answers.
Everyone deserves accurate information about COVID-19. Support journalism without a paywall — and keep it free for everyone — by becoming a HuffPost member today.
 
Source: Read Full Article